Double sided compact telescopic ladder
Xtend Plus max height m 2,30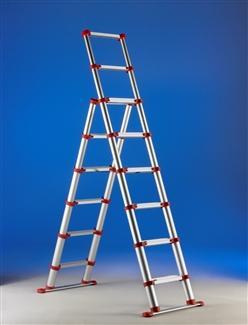 Telescopic multipurpose aluminium ladder manufactured in anodised aluminium 6061, Xtend Plus thanks to a special treatment, doesn't dirty user's hands. It has been designed for professionals but is excellent also for DIY & Home use. Xtend Plus is a double sided ladder with wide ramps and flat steps (90mm on front part and 40 mm on back part) which allows user to work safely and comfortably.
Xtend Plus can also be used leant to wall and is equipped with closing safety buttons designed to prevent finger pinching. The ladder extension is simple, by pushing the rungs upward (like a fishing rod) and in few seconds you will get an "A" ladder or a ladder to use leant to wall. After use, you close it by pushing the safety buttons on each rung. The ladder closes rung by rung taking advantage of its weight. Fortuitous opening is avoid thanks to safety bands and aluminium hinge. This ladder, manufactured in accordance with European Standard EN131, is patented. Xtend Plus is extremely compact and can be stored everywhere: inside a car boot, in a closet, in a van cab and so on. To carry the ladder in a practical way, Xtend Plus is equipped with an ergonomic handle for easy-carry!
Xtend Plus can also be used leant to wall to desired height or can be used on stairs.
TECHNICAL FEATURES
Height closed: cm 75
Top height: cm 230
Base width: cm 45
Ladder thickness: cm 18
Guardrail height: cm 60
Anti-slip step width (front part) cm 9
Anti-slip step width (back part) cm 4
Distance between rungs: cm 30
Weight: Kg 16,80
Capacity: Kg 150
STANDARD PARTS
Non-skid PVC feet
Neoprene handle for easy-carry
In anodised aluminium, do not dirty user's hands
Label and instructions for assembly and use




| | | | | | | | |
| --- | --- | --- | --- | --- | --- | --- | --- |
|   | Nr. Of rungs | Closed he | Extend. height m | Lower width | Upper width | Closed width | Weight kg |
| Xtend Plus | 6+2 | 0,75 | 3,70 | 49 | 45 | 18 | 16,8 |
Photogalerie