Telescopic Laddres Teletech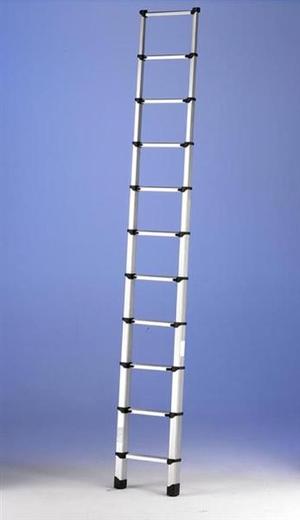 Telescopic ladders manufactured in anodised aluminium 6061 that, thanks to a special treatment, do not soil user's hands. They have been designed for professionals but they are excellent also for DIY. They are extremely compact and can be stored everywhere, for example in a car boot or in a clipboard. They are particularly suitable for fitters, decorators, drivers, plumbers and electricians.
A wide ramp, with telescopic rectangular rungs 40 mm large, allows the user to stand comfortably and safely. New ergonomic safety buttons enable closing the ladder quickly
TECHNICAL FEATURES
Closed height: Teletech 380: 92 cm , Teletech 320: 79 cm
Extended height: Teletech 380 380 cm ,Teletech 320 320 cm
Base width: cm 49
Upper width: cm 45
Weight: Teletech 380: 13,7 Kg , Teletech 320 10,50 Kg
No. of rungs: Teletech 380: 13,  Teletech 320: 11
Packaging: shrink-wrap – polystyrene – carton box
  Teletech 380: 0,08 mc (101x54x13 cm)
  Teletech 320 0,06 mc (87x52.5x12 cm)
Loading Capacity: kg 150.
STANDARD PARTS
Neoprene handle for easy-carry
Safety closure strap that avoids accidental opening
Anti-skid ergonomic PVC feet
Packing in plastic + polystyrene + cardboard box
Label and instructions for assembly and use



| | | | | | | | |
| --- | --- | --- | --- | --- | --- | --- | --- |
|   | Nr. Of rungs | Closed he | Extend. height m | Lower width | Upper width | Closed width | Weight kg |
| Xtend | 13 | 0,80 | 3,80 | 49 | 45 | 8 | 12,7 |
| Xtend Minilight | 7 | 0,65 | 2,00 | 47 | 45 | 7 | 6,0 |
| Teletech 320 | 11 | 0,79 | 3,20 | 49 | 45 | 7 | 10,5 |
| Teletech 380 | 13 | 0,92 | 3,80 | 49 | 45 | 7 | 13,7 |
| Teletech 470 | 16 | 1,05 | 4,70 | 54 | 45 | 7 | 16,5 |
 Photogalerie